Small Bitcoin whales may be keeping BTC price from 'capitulation' — analysis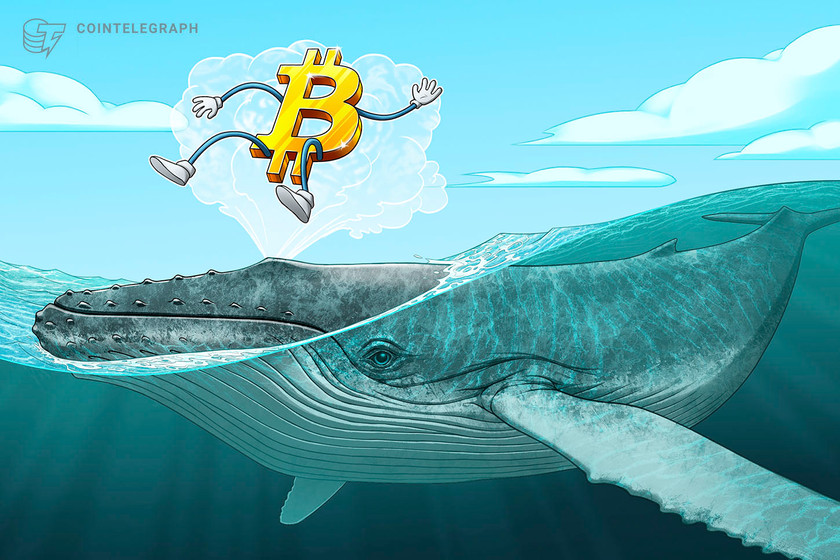 Amid distribution by the "giant" whales of Bitcoin, data shows that smaller ones are still resisting the urge to sell.
Bitcoin (BTC) could still see a major price capitulation, but more whales need to start selling first, data suggests.
In one of its daily QuickTake market updates on May 27, on-chain analytics platform CryptoQuant highlighted increasingly bearish whale behavior.
Small whale selling should spark "absolute capitulation"
Amid widespread consensus that BTC/USD should put in a lower low than its May 12 pivot price of $23,800, some of Bitcoin's largest holders are showing signs of impatience.
Looking at unspent transaction outputs (UTXOs) from various "bands" of whale wallets, CryptoQuant contributor Binh Dang flagged selling from the top cohort increasing since April.
Those entities with $1 million or more, known as "giant" whales, have upped their distribution of coins, while smaller whales — those with under $1 million — have been slower to shift their position.
"After the dip was at the end of January, we still saw the accumulation because all of the leading value bands went up, but from the 21st of April to now, giant whales (range over 1M$ – USD) have been distributing and do not get any signals to accumulate now," Dang explained.
"If minor whales and retailers give up, I think we will see the absolute capitulation and bottom also. If not, I will keep an eye on positive movements in the range of $1M to consider a reversal." 
An accompanying graphic showed realized supply from giant whales decreasing sharply, with $100,000-$1 million whales only now beginning to follow suit.
By contrast, the $10,000-$100,000 and $1,000-$10,000 bands showed no signs of capitulation.
"Giant whales keep going on the distribution. Minor ones and retailers keep the defensive state," CryptoQuant lead on-chain analyst Julio Moreno added in private comments to Cointelegraph.
Data from fellow on-chain analytics firm Glassnode meanwhile confirmed an overall decrease in the number of entities qualifying as whales.
Once again, an acceleration since April pointed to whale distribution, and as of May 27, overall whale numbers were at their lowest since July 2020.
Eyes on volume triggers
Earlier in May, whale buy levels formed key support targets below $27,000.
Related: Bitcoin 'good to go up' after BTC price hits lowest since Terra crash
For on-chain monitoring resource Whalemap, these were of interest in the aftermath of the initial May 12 dip.
In subsequent analysis, researchers showed that capitulatory events of the kind forecast for BTC/USD required coins moving at both a profit and a loss in elevated amounts.
"On May 12th both profits AND losses were higher than usual," part of an explanatory tweet stated, alongside a chart of moving profit/ loss (MPL) data.
"A good example of capitulation was in Dec 2018 when similar MPL activity was present (but at a much larger scale)."
This week, on-chain transaction volume saw a noticeable increase, Cointelegraph reported.
The views and opinions expressed here are solely those of the author and do not necessarily reflect the views of Cointelegraph.com. Every investment and trading move involves risk, you should conduct your own research when making a decision.