Bitcoin Pizza Day 2022: Here's What's Happening This Year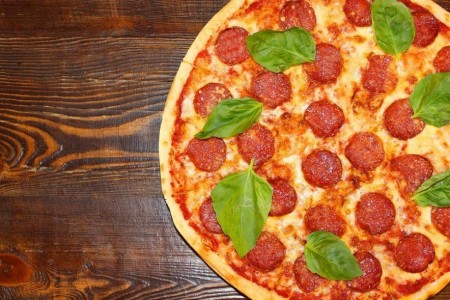 The crypto community celebrated the 12th anniversary of Bitcoin Pizza Day this year on May 22, 2022. The event commemorates one of the first purchases involving cryptocurrency: two Papa John's pizzas that were paid for with Bitcoin in 2010.
That purchase was made on the BitcoinTalk forums by Laszlo Hanyecz, who paid a total of 10,000 BTC. Though that amount is now worth nearly $300 million, it was worth just $41 at the time. And because there were no companies accepting Bitcoin directly, Hanyecz had to pay another user to order pizza on his behalf.
Now, more than a decade later, Bitcoin Pizza Day has become a milestone in the history of Bitcoin and cryptocurrency—and several companies are celebrating it.
Binance Is Running an Extensive Celebration
Binance, which operates the world's largest crypto exchange, held the most extensive Bitcoin Pizza Day celebration this year. The company ran a one-day pizza stand in Cannes on Friday, May 20 in cooperation with the pizza chain Mister Pizza.
The company's CEO, Changpeng Zhao, personally attended and posted pictures of himself making pizza with employees of the restaurant chain.
Though that live event has ended, Binance is now running a ten-day-long online giveaway. Entrants must bake their own pizza and share a photo of it. The contest is open for submissions between May 19 and 29, 2022.
Five winners will receive $2000 in Binance's Binance Coin (BNB)—which Binance says is enough money to buy three pizzas a week for an entire year.
Other Companies Are Running Events
Binance isn't the only crypto company running a giveaway. Another leading exchange, Huobi Global is offering a 50 BTC ($1.5 million) prize pool. Users will need to collect different ingredient cards by making trades; various awards are available in addition to cash prizes, including Pizza Day NFTs. Participation is open until May 29.
StealthEX, meanwhile, is running a Pac-Man competition until May 26. Players will compete to have the character eat as many pizzas as possible. The top three players will share a prize pool of 16 million SHIB tokens ($200).
Bitbuy is also running a brief promotion. Beginning Sunday, May 22, new users who sign up with the exchange and deposit at least $250 will receive $100 for free. The exchange has dubbed the giveaway a "free topping."
ResearchDAO is offering a chance to win a free, limited edition pizza-themed wallet from Ballet Crypto, a popular "metal wallet" manufacturer.
One competition has already closed: XBTO partnered with the soccer team Inter Miami CF to run a giveaway during a match at the DRV PNK Stadium in Florida. The promotion had two parts: various customers won match tickets by ordering pizza from Papa John's, and one audience member won $4,999 of Bitcoin by checking into the match.
Finally, CryptoBootcampCommunity coordinated a number of Pizza Day Hangouts in major cities throughout Africa. Over a dozen events were coordinated in different cities, including Abuja (Nigeria's capital) and Kampala (Uganda's capital).
Other big names in the cryptocurrency industry are not running contests or giveaways but have mentioned Bitcoin Pizza Day in passing. Those who observed the date on Twitter include Crypto.com, Roger Ver, Litecoin, and Trezor.
Other Minor Giveaways
Several other crypto companies are also running giveaways. Most of those companies are exchanges—such as Probit, Gate.io, Bitrue, ViaBTC, CoinEx, Lbank, and OKX—that are running simple social media contests with small cash prizes.
Lesser-known crypto companies are offering prizes as well. Those companies include MyMetaFarm (a blockchain game), RichQuack (a project incubator), LuaSwap (a DeFi exchange), Astra Protocol (a web3 compliance layer), ThunderCore (a blockchain for app developers), and NOAH (a Bitcoin-powered payments app).
Collectively, the giveaways announced so far will pay out thousands of dollars in rewards, and many will last for several days after Pizza Day's main event on May 22.
That means that there are plenty of opportunities for crypto investors to participate. To find a complete list of events, look for #BitcoinPizzaDay on Twitter.
For past Bitcoin Pizza Day events, see last year's coverage of this topic.