Bitcoin 200 Week MA Reached: What Does This Mean For Investors?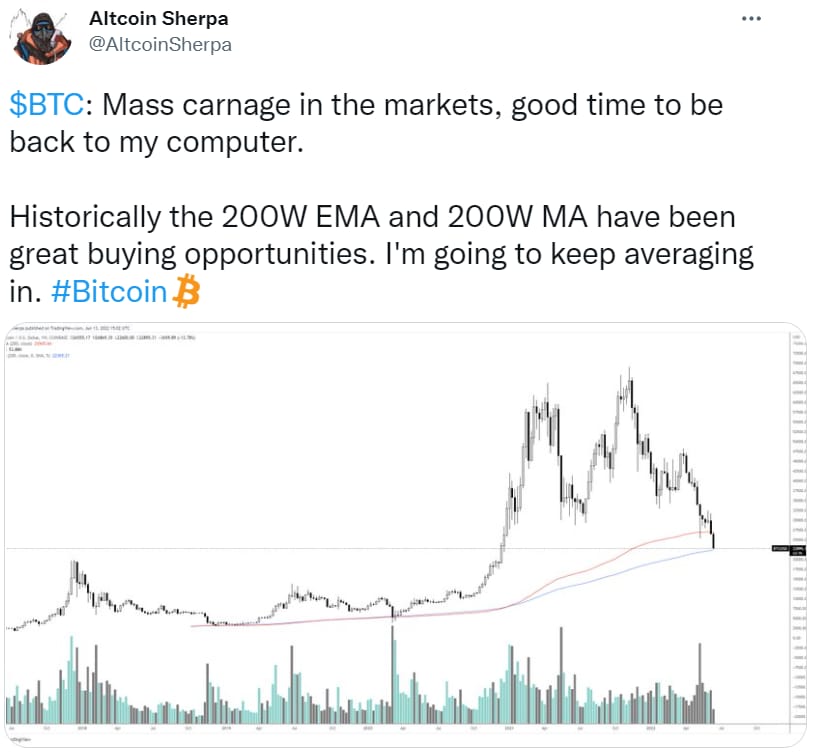 The Bitcoin price has reached below the $25,000 level for the first time since December 2020. After a horrifying weekend for crypto investors and enthusiasts, the prices for Bitcoin on Monday made no difference.
Bitcoin ended up losing 13% on Monday, and then finally bounced up. As of writing this, the prices stand at $22,093, experiencing a 1.6% drop since yesterday.
The cryptocurrency tested the 200 moving average, which has been the support level for seven years. But, what impact does it have on your BTC investments? Plus, what does the future hold for the currency? We would find all of it and answer those questions.
Your capital is at risk.
MA, SMA, EMA: Let Us Understand These Terms
Traders tend to rely on the trends that surround any market, be it crypto markets or equity markets.
One way to ascertain the trends in these markets is by deploying momentum strategies. These momentum strategies have different names and utilities assigned to each one of them, allowing traders to deploy a strategy accordingly.
Moving averages (MA) is a term that is used to simplify and streamline price fluctuations in the markets. This helps traders reduce the unnecessary noise and speculations and determine where the market is headed. This gives a much clearer picture of the overall scenario.
MAs are calculated by cumulating the previous data points, or candles and then dividing them by the number of data points. For instance, to derive a 100 MA, you sum up the previous 100 periods by 100.
There are various types of moving averages which include SMA (simple moving average) and EMA (exponential moving average), and more. Each moving average tends to use different criteria to determine the averages.
Why Does the 200 MA for Bitcoin Matter?
When we look at the price history for Bitcoin, there hasn't been a scenario as of now where the cryptocurrency has touched the 200 MA. This includes the $3,000 drop in the bearish phase of 2018, as well as the COVID crash of March 2020.
The 200 MA has historically acted as a support level for Bitcoin, as visible in January 2015 too.
According to crypto analyst, Justin Bennett, the major cryptocurrencies can see more drop in their value, wiping off major chunks of their values. Bennett is of the notion that BTC is in the midst of a price breakdown from a bearish continuation pattern. He states how the $1 trillion valuation mark provides a psychological support level for the entire crypto community.
The brunt of the correction undertaken by Bitcoin might even be borne by other major altcoins.
Buy Cryptocurrencies at Low Price via eToro
Your capital is at risk.
The Right Time To Buy Bitcoin?
Historically too, there have been instances when support levels have instilled a bearish fear amongst investors of Bitcoin. However, it is one of the mistakes that's to be avoided.
The 200 MA support line is certainly a reason for many to be wary of investing more in cryptocurrency. According to an investor, for someone who wants to enter the market, this can be an opportunity in disguise. Dividing your investments in 3-5 tranches over a 2-quarter period can be a smart move.
Moreover, if the sellers stay on the path, the cryptocurrency can even touch the $20,000 mark, although that's to be seen for now.
What's Next for Bitcoin?
To answer it simply, the revitalisation of Bitcoin depends on how the investors react to this situation.
Earlier as well, the cryptocurrency has faced a situation similar to this. If the investors showcase their confidence in Bitcoin and hold it for the longer run, it can actually turn the tables around.
The crypto markets, like the equity markets, are battling external factors such as rising inflation and rising geopolitical uncertainties. This is why it is more of a question around external factors rather than questioning the fundamentals of cryptocurrencies.
Your capital is at risk.
However, as per many analysts, it is time to exercise caution while investing in cryptocurrencies. It is advisable for the investors to invest as per their risk appetite.
Read More:
Lucky Block – Our Recommended Crypto of 2022
New Crypto Games Platform
Featured in Forbes, Nasdaq.com, Yahoo Finance
LBLOCK Token Up 1000%+ From Presale
Listed on Pancakeswap, LBank
Free Tickets to Jackpot Prize Draws for Holders
Passive Income Rewards – Play to Earn Utility
10,000 NFTs Minted in 2022 – Now on NFTLaunchpad.com
$1 Million NFT Jackpot in May 2022
Worldwide Decentralized Competitions
Cryptoassets are a highly volatile unregulated investment product. No UK or EU investor protection.