Ethereum Higher as Cryptocurrency Market Stabilizes, USDT, BNB, FTM, May 23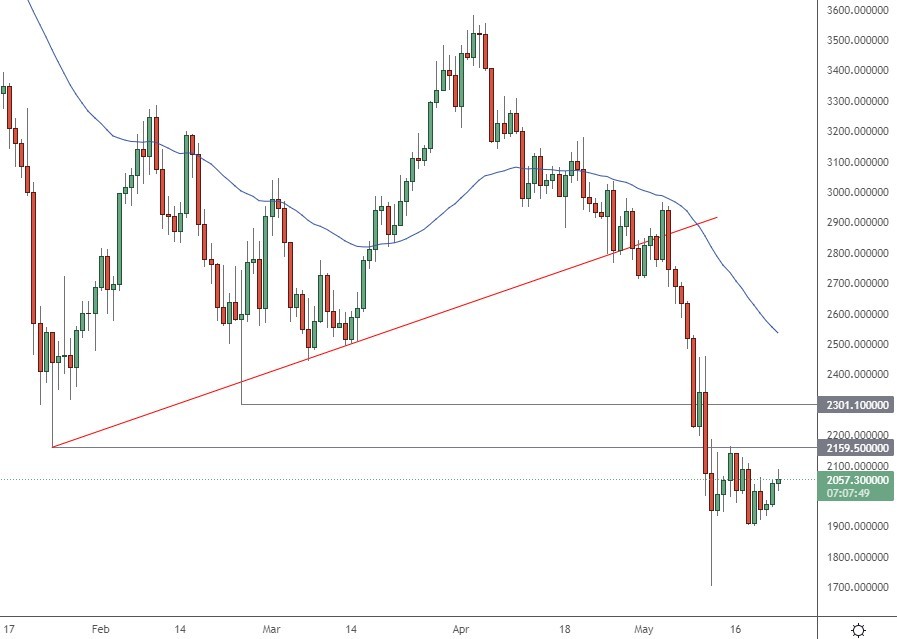 ETH
Ethereum saw a bounce of over 3% in the last week as the cryptocurrency market stabilized from recent selling.
However, the move higher has been weak as investors still fear further downside in the market.
Ethereum's founder Vitalik Buterin has said there could be a delay in the rollout of its long-awaited Merge upgrade and that has weighed on price. Buterin was talking at the ETH Shanghai Web 3.0 conference and said:
This will be a major test, larger than any of the tests that we have done before, Taking a large existing test network with many applications with proof-of-work, moving into proof-of-stake…If there are no problems then the merge will happen in August. But of course, there's always a risk of problems. There's also a risk of delays. And so September is possible and October is possible as well.
In the latest comments from Ethereum developers, some have said August could be the date. 
Preston Van Loon said:
"As far as we know, if everything goes to plan, August — it just makes sense. If we don't have to move (the difficulty bomb), let's do it as soon as we can."
The Merge is scheduled to be launched on this testnet on June 8, 2022. ETH trades at $2057 which is a long way from its November highs of $4,800.
USDT
The USDT stablecoin is losing ground with a drop in its market capitalization since the UST Terra crash.
Tether now has a market cap of $72bn and has USD Coin breathing down its neck at $53bn. Tether has dropped as low as $0.9704 in the recent market tumble with the market cap falling from around $83bn to the current level, $10bn lower.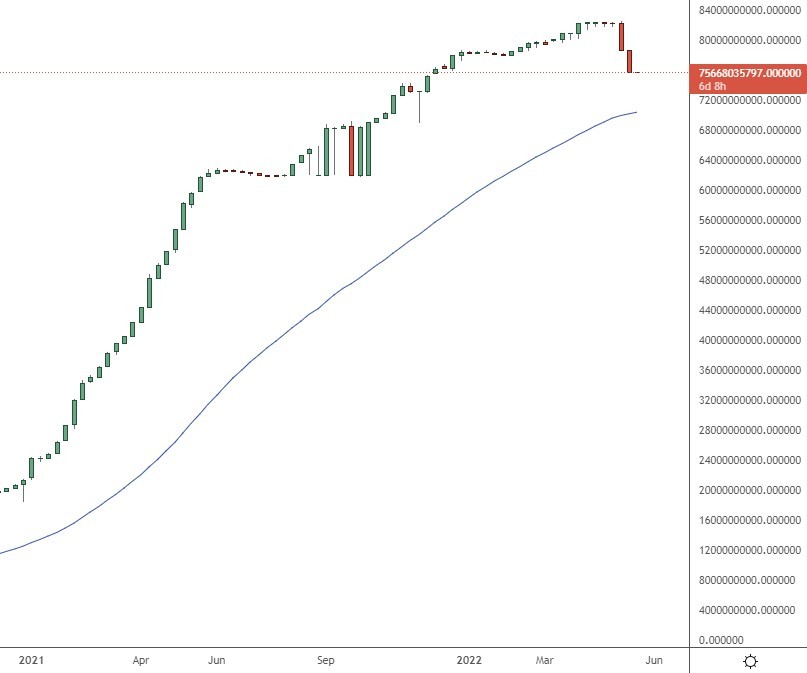 However, USDC is also seeing some outflows with a 13-month low in whale holdings as investors turn away from stablecoins after the recent turmoil, according to Glassnode.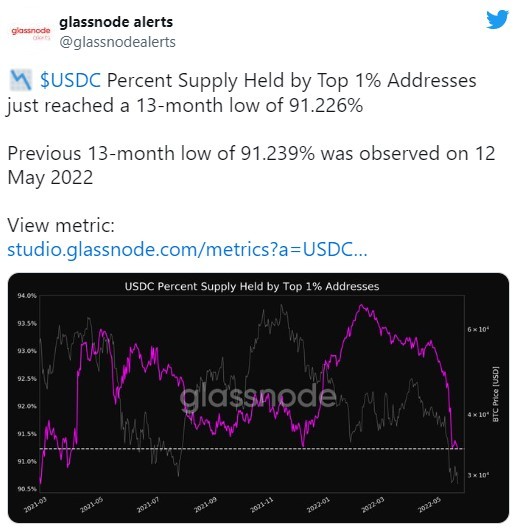 But the analysts were confident in a recent report that USDC was growing in importance.
"USDC reversed the trend of supply contraction that has been in place since late Feb, expanding by $2.639B."
Given the dominant growth of USDC over the last two years, this may be an indicator of changing market preference away from USDT and towards USDC as the preferred stablecoin.
It will be interesting to watch how USDC performs in the coming weeks, or if investors chop more value from USDT, which has long been the most valuable stablecoin.
BNB
The price of Binance Coin rallied the most of any coin in the top ten with a 14% gain.
It was mixed fortunes for the company's founder who remarked that he is 'poor' again after the LUNA coin price crash.
In 2018, Binance received 15 million tokens of LUNA for a $3 million investment into the Terra network. At its April peak, the investment in stablecoins reached $1.6 billion. After the recent crash, the tokens are now worth around $2,000. 
But despite the huge loss for Binance, Changpeng Zhao said he still wants to see retail traders who lost money during Luna's crash be reimbursed before Binance.
"To lead by example on PROTECTING USERS, Binance will let this go and ask the Terra project team to compensate the retail users first, Binance last, if ever," Zhao wrote.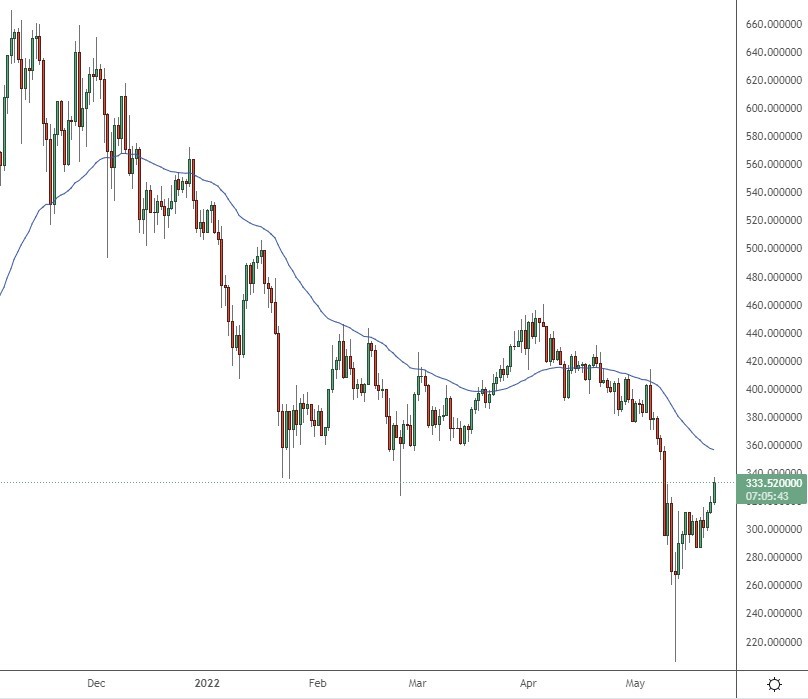 The price of Binance Coin has rallied to $334 but has seen a slump from the November crypto highs. Binance was responsible for $7.7 trillion crypto exchange volume in 2021 and saw 24hr volume of almost $14 billion.
FTM
The price of Fantom rallied over 40% on the week over speculation that one of the project's key developers was returning.
Andre Cronje caused some commotion in the Fantom community in the last week after he submitted an fUSD optimization proposal that will look to solve the stablecoin's de-pegging problem. Cronje was credited with creating the yield optimization tool Yearn Finance and some other DeFi protocols. FTM suffered when he announced he would be leaving crypto to return to the traditional finance sector in March. That announcement happened days after the launch of the long-awaited Solidly project on the protocol.
In the past two weeks, a Fantom blockchain address which is thought to be owned by Cronje has added over 100 million FTM in the past two weeks. 
The fUSD proposal comes after tough times for the stablecoin sector of cryptocurrency. Terra's collapse came after a loss of confidence in its UST stablecoin, which lost its peg to the dollar. However, the Fantom Foundation commented on a Twitter post that "fUSD is not UST".
Users create fUSD by borrowing against their staked FTM. If the value of the FTM goes below the minimum collateral ratio, then the FTM is progressively auctioned off to users who bid using fUSD (to keep peg).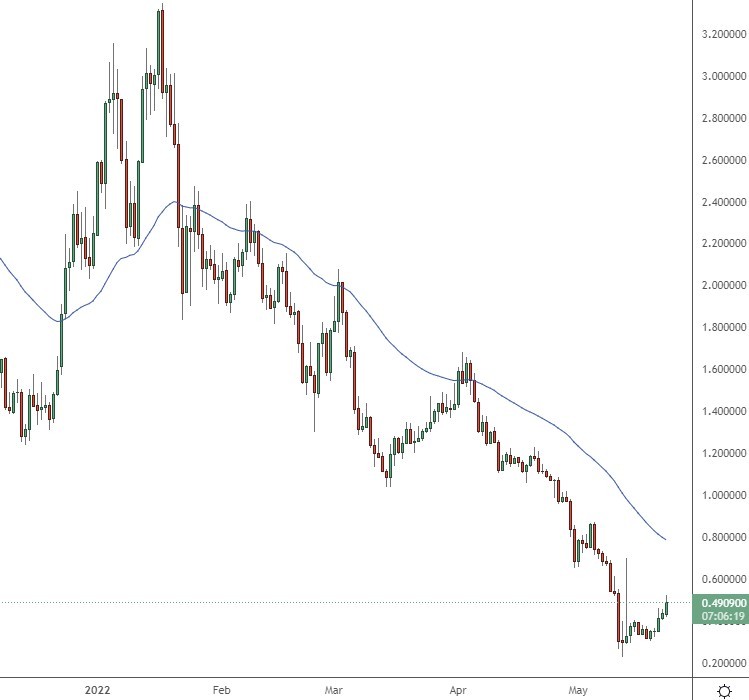 The price of FTM rallied to the $0.500 level but the 40% return doesn't look so impressive compared to its recent price action as DeFi projects were hit hard by the recent slump and Fantom will need to right its stablecoin issues.