Bitcoin Price Holds Support at $30k – What's Next for BTC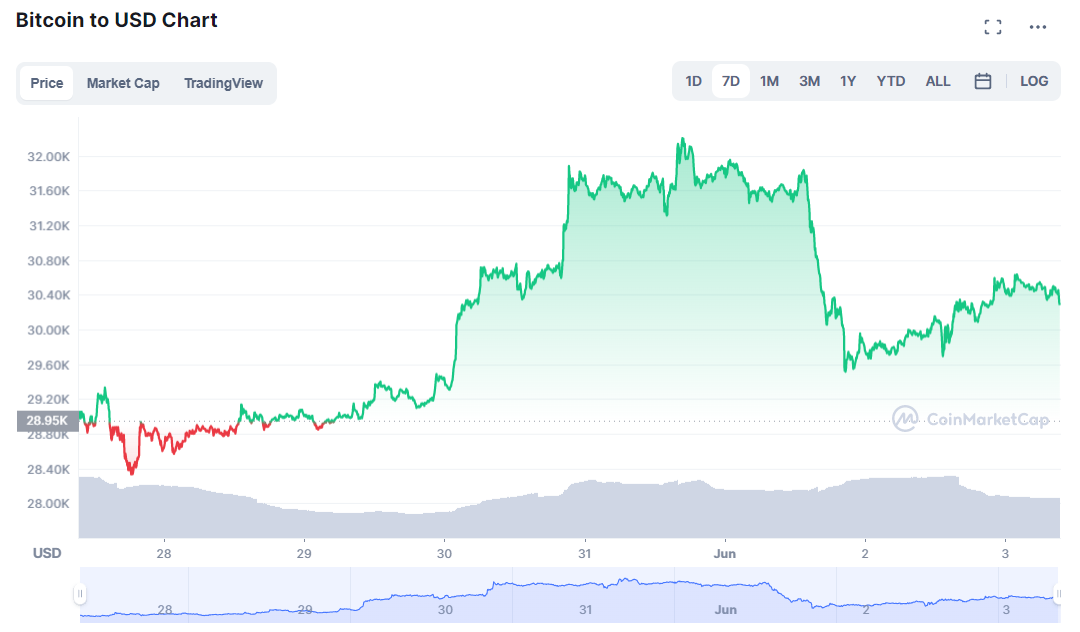 Bitcoin carried itself to cross the $30,000 level on Monday. A level considered to be a major technical threshold; dictating the price movement of Bitcoin moving forward.
A day later, the price touched a weekly high of $32,249 but soon plunged to rest below the critical threshold. As of now, the price is back at its target, progressively increasing. Trading currently at slightly over $30,600.
Over the course of this week, most major cryptocurrencies saw an uptick of about 2-4%. With the exception of Cardano- a token that managed to climb a significant 30%. The market sentiment, for the most part, was pessimistic. Given the fear of recession, investors managed to keep their distance from these relatively risky assets, maintaining a rather mundane trading volume for most cryptocurrencies.
What Financial Experts Think about Markets?
Jamie Dimon, chief executive at JP Morgan, made some remarks warning investors to prepare themselves for the "economic hurricane". This remark was especially concerning, as only last week, Dimon referred to the economic outlook as "storm clouds"- a milder event than a hurricane.
The effect of these comments reflected on the S&P index the very next day, as the price took a slight plunge contrasting the previously increasing uprise. On the other hand, and as expected, the price of gold witnessed an upside, with the price rising roughly $450 in a single day.
The effects of this perceived recession were observed across the technology sector as well. Major companies, like AMAZON and NETFLIX, reported their weak first-quarter financial results, while Microsoft recalibrated its sales projections amidst the economic outlook.
The US recorded an increase of 8.3% in inflation when compared to last year. However, this increase was slightly less than the previous month's record, and although inflation still remains at a 40-year high- this decrease may be a sign of the numbers settling down.
This overall rise in inflation is supposed to be a good thing for Bitcoin- or any asset that is considered to be a store of value. But when we trace the performance of Bitcoin, any positive effect incidental to the inflation is unobserved. In 2022 alone, the price of Bitcoin witnessed a downfall of 35% even though overall prices of goods have surged in the US.
Price Action of Bitcoin – Would Bitcoin Price Rise?
Currently, Bitcoin is trading at roughly $30,600. It broke the $30,000 strategic level beginning this week. The 30k level is considered to be particularly important as historically speaking, Bitcoin has managed to shoot up from this price on three different instances.
Although the current price action of Bitcoin has instilled some confidence, the coin still continues to follow a bearish trend. In order to suggest a bullish uprise, the price of Bitcoin must exceed a level of $40,000 following the 30k bounce. This is, however, the positive side.
Bitcoin price is seeing an upside movement from past few days
On the opposite side of the tangent, the price of Bitcoin can potentially touch $25,000. More likely if it falls below $28,000. And if worst comes to worst, the price can almost border $20,000. For investors, that'll be an additional loss of 33%, if the dip occurs.
Invest in Bitcoin via eToro Now
Your capital is at risk.
Bullish Price Prediction for Bitcoin – $100k level by 2024
Several analysts on the internet have made plentiful predictions, but the reasonable ones are as follows.
As per the Coin Price forecast, the price of Bitcoin is likely to scale at $49,065 by the end of the year. A rough 65% increase from its current position. Following the first half of the next year, one can expect the price to reach $53k, and to settle at $65k by the end of next year.
The website has estimated Bitcoin to cross the $100k level by 2024, which is in alignment with most other predictions so far. By 2025, the price is expected to hover around $120k as per the latest predictions.
Buy Bitcoin via FCA Regulated eToro
Your capital is at risk.
A report by Coin Market, on the other hand, suggests some extreme numbers. As per their report, they expect the price of Bitcoin to land at $250k by 2025. But considering the current market sentiment and the latest downfall of Bitcoin, that seems unlikely.
Upon averaging the most credible predictions, the practical upside target to expect for Bitcoin by the end of this year is $65k. This is a revised target from the previously mentioned $100k, and this is why, for now, more practical.
Read More:
Lucky Block – Our Recommended Crypto of 2022
New Crypto Games Platform
Featured in Forbes, Nasdaq.com, Yahoo Finance
LBLOCK Token Up 1000%+ From Presale
Listed on Pancakeswap, LBank
Free Tickets to Jackpot Prize Draws for Holders
Passive Income Rewards – Play to Earn Utility
10,000 NFTs Minted in 2022 – Now on NFTLaunchpad.com
$1 Million NFT Jackpot in May 2022
Worldwide Decentralized Competitions
Cryptoassets are a highly volatile unregulated investment product. No UK or EU investor protection.